Our highly interactive half-day workshop provides the knowledge and skills needed for effective workplace communication.
Learning Outcomes
Know how to communicate effectively
Understand the key elements of communication
Determine your conflict resolution style
Apply successful conflict resolution strategies
Conflict can result from miscommunication and lead to significant negative outcomes for both individuals and workplaces.. The quality of relationships can significantly constrain or enhance corporate productivity and growth.
Effective communication can prevent destructive conflict from occurring. Knowing how to resolve issues successfully can prevent conflict from escalating.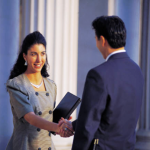 Effective communication is essential in creating unity in a team and for learning and transformation of both individuals and groups.
In complex matters, the chance of error, or that an incorrect or distorted image or concept will be received is very high. This is because culture, language, background, education etc, all contribute to the selection, hearing, and interpretation of the words used.
Unless the feedback is consistent, the person trying to communicate will often not know that there has been a misunderstanding. They will then continue to develop, analyse or diagnose on that basis.
Communication is even more difficult when more than two people are involved. It is not surprising that there is often a major difference between 'hearing' and 'listening'.
Our highly interactive half-day workshop provides the knowledge and skills needed for effective workplace communication and conflict resolution. To obtain a quote to deliver this workshop in your workplace contact Flexibility At Work on
Tel: (02) 9402 4741
Mob: 0438 231 065
Email: kerry@flexibility.com.au
Related articles:
How to rise above conflict at work
Conflict, Culture and Diversity at work