The Diversity and Inclusion Workshop
Facilitates inclusive workplace cultures,
Raises awareness of the benefits of diversity,
Encourages effective cross-cultural communication,
Develops behaviors that promote effective workplace relationships.
The unique feature of our diversity workshops is the application of a Coaching tool and methodology.
The methodology is fully engaging and interactive. It has a sound psychological and neuro-physiological basis and has been awarded the American Group Psychotherapy Award for Innovation. This coaching method surfaces the mental models, values, biases and attitudes that can promote or inhibit the diversity dividend.
This method will revolutionize the way we influence behaviour. Professor Ponton, UCLA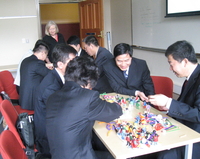 Learning Outcomes:
– Understand what diversity management is,
– Recognise the types of diversity within the workplace,
– Model behaviours that value and respect individuals at all levels of the organisation,
– Understand how stereotyping, value differences and misperceptions can create exclusionary workplaces,
– Be aware of the features of effective and ineffective cross-cultural communication,
– Actively seek to achieve an inclusive workplace and encourage contribution from all team members,
– Understand their legal obligations, roles and responsibilities in relation to discrimination and harassment prevention
– Implement policies and procedures that prevent discrimination and harassment,
– Communicate the benefits of effective diversity management,
– Support inclusive workplace behaviours, policies, systems and procedures.
Contact Flexibility At Work on Tel: 612 9402 4741 for the "Diversity & Inclusion Workshop" to be delivered in your workplace.
Related article
Conflict, Culture and Diversity