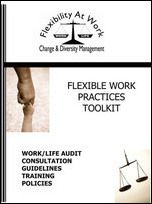 The Flexible Workplace Toolkit provides the information needed for success with home based work, job sharing and part-time work including guidelines, a work/life audit and flexible work policies.
With more than a decade of experience in helping workplaces implement flexible work options, we know the practices, systems and processes that underpin successful flexible workplace.
Each of the Guidelines provide extensive coverage of what employees and employers need to consider when entering each particular type of flexible work arrangement and how to enhance sustainable success of these practices.
The Toolkit is available as a complete kit. Alternatively various components can be obtained to meet your flexibility needs.
The Flexible Work Practices Toolkit offers outstanding value and includes:
A Work/Life Audit
Consultation Process
Job Sharing Guidelines
Part-time Work Guidelines
Home Based Work Guidelines
Flexible Workplace Policies
For further details contact Flexibility At Work on Mob: 0438 231 065
Home Based Work, Part-time Work and Job Sharing Guidelines
The Guidelines include:
The definition and options available under each type of arrangement
Benefits for the employee
Benefits for the employer
Employment conditions
What employees need to consider
How to state a case for each type of flexible work practice
Determining how the particular flexible work option will work
Understanding the difficulties that can arise and how to address these
Redefining a job to meet the needs of employer and employee
Employee strategies for success with the flexible work practice
Procedures that need to be put in place
Technology requirements
Communication strategies
Written agreements
Systems considerations
Management practices that support flexibility
Assessment and agreement forms.