In the Managing Stress at Work workshop participants:
Achieve insights into what is causing their stress
Develop a personal plan to prevent harmful stress and burnout and
Gain practical strategies that they can implement in the short and long term to cope with stress.
Learning Outcomes:
Understand what stress is,
Be aware of the consequences of stress,
Identify different responses to stress,
Understand what constitutes workplace stressors,
Implement strategies for managing workplace stressors
Understand and apply effective time management tools.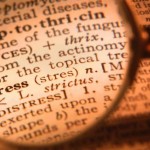 This is a highly interactive, participant focused program for developing successful strategies to deal with stress.
Our workshops include the application of an award winning coaching tool to provide the clarity and steps to take to manage harmful stressors.
Related Workshops – Creating Positive Workplaces